Solution
The core products of the company are ingenious energy flow management with energy consumption prediction software based on AI and a battery-swapping station integrated with a proprietary AMR robot. This innovative energy transfer approach gives the ability to increase the productivity of AMRs by up to 20% and is a step towards R2G (Robot-to-Grid) solutions.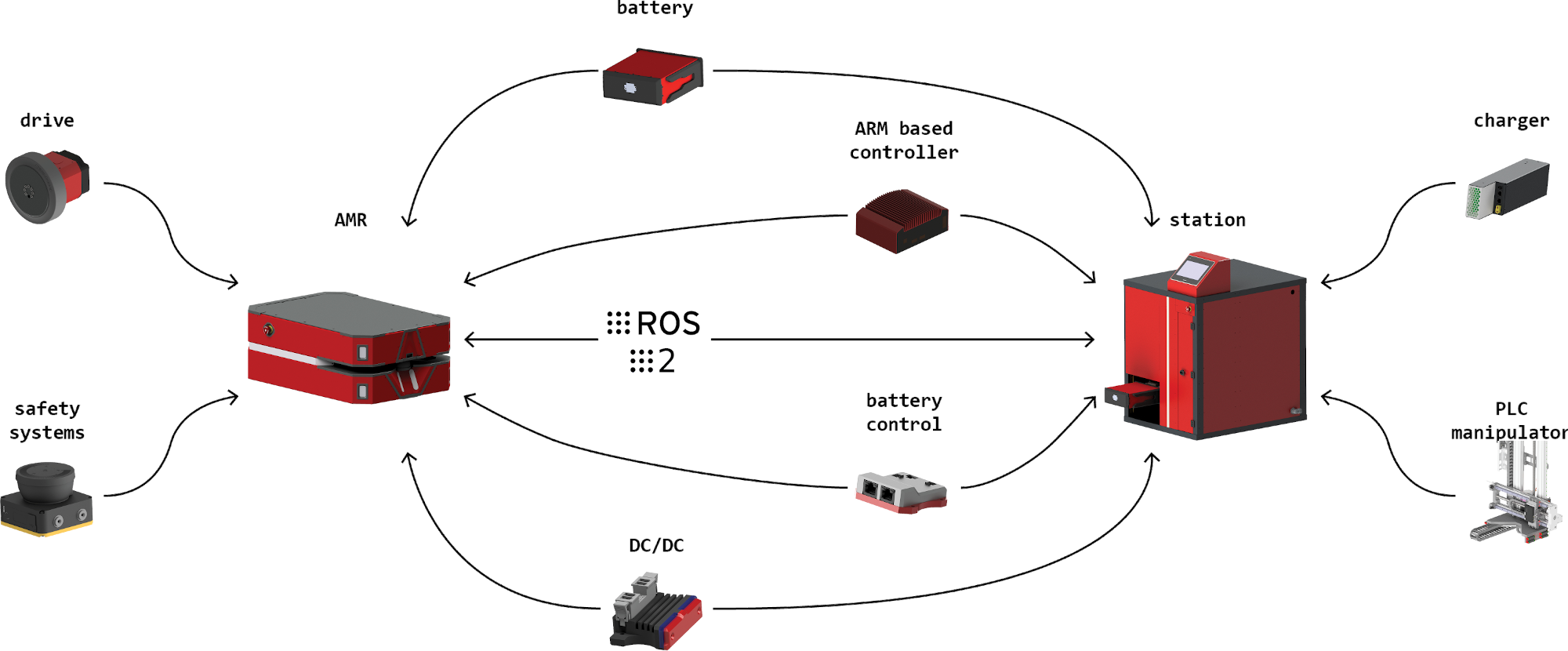 AMR system
We offer a wide range of AMR robots which are designed to be easily integrated into any application. Our solutions are modular, which enables very simple scaling for projects of different requirements and sizes.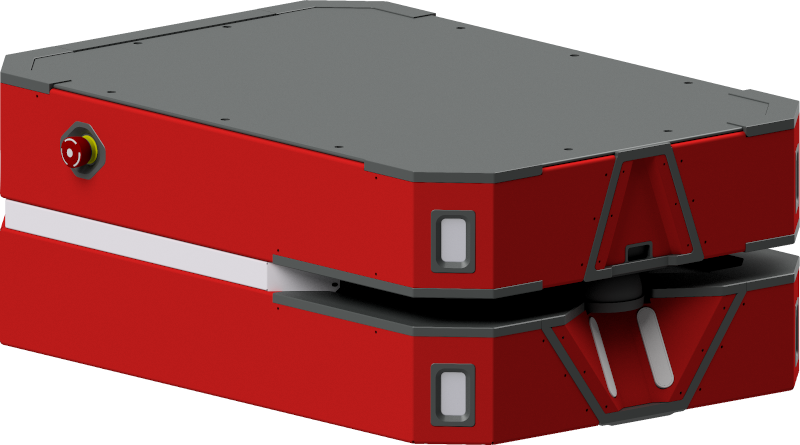 H100 / H250
Size and weight

Max. upload
100 kg

Max. upload
250 kg

External dimentions
750 x 520 x 308 mm

Weight
60 kg

Weight
75 kg

Max. slope
5%

Traversal step
5 mm

Rack mount
16 mount holes

Speed and performance

Max. speed
1,3 m/s

Max. speed
1,1 m/s

Min. corridor width
1,2 m

Positioning
40 mm (coarse)
10 mm (precise)

Safety systems
Sick nanoScan 250°

Supply systems

Battery
22,2 V / 53 Ah

Runtime
8 – 10 h

Runtime
7 – 9 h

Charging time
3 min

Battery life
> 2000 cycles

User supply
12 V / 2 A
24 V / 1 A
VBat / 10 A

Software

Web application
System setup, Map, POI, Diagnostics, Task creation

Control application
Manual driving, Mapping, POI&nbspsetup

Kiosk
Calling the robot, Releasing the robot, Diagnostics

Management algorithms
Planning and assignment of tasks, Traffic management, Battery replacement planning

Other

Compilance
CE, EMC, EN&nbspISO&nbsp3691-4

User interfeces
Ethernet, CAN&nbsp(OPT), EtherCat&nbsp(OPT), Safety&nbspI/O, Digital&nbspI/O

Communication
Wi-Fi / Mesh
Rack

Mobile Rack

Automatic battery swaping station

Manual battery swaping station

Drive
Power management system
The power management system minimizes down/recharge time from even 60 minutes to just 3 minutes sufficient for battery replacement. The whole process is realized fully autonomously without any need for human interaction.
The station with its bank of energy unveils new, powerful benefits related to Robot-To-Grid solutions, energy trading and short and long-term energy consumption prediction. A single station can handle up to 120 AMRs to greatly reduce the total footprint of AMR maintenance system in a warehouse.
Automatic battery swaping station

Manual battery swaping station

Battery

Charger

Battery control

DC/DC
About us
HETBOT is a spinoff company of Lodz University of Technology and was established in 2020. The spirit of the team has been built for nearly 10 years when robotics passionates started designing robots for international robotic competitions reaching top places in robotic events all over the world. The team members received three R&D grants from the Polish National Centre for Research and Development and several different grants worth in total of 1.4 million EUR, which helped the team to develop a concept of modular mobile robots based on ROS1/2 software. The system could be also easily integrated with third-party robots and other vehicles.